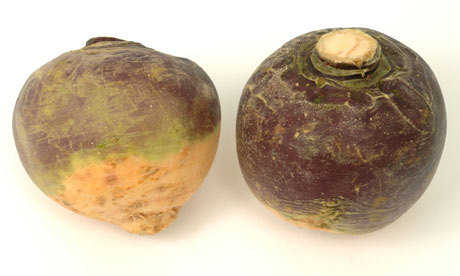 Just in time for Burns Night comes news of a fun local competition to give a new lease of life to a forgotten vegetable: the humble swede!
Known in Scotland and Ireland as a turnip or neeps, the swede's yellow flesh is often associated for many with school dinner days, but a competition run through local veg box scheme Local Greens hopes to give it star billing. On February 10th at 10am at Herne hill Farmers Market, Jay Rayner will be judging your swede recipes.
Try it raw or cooked. Substitue swede where you use sweet potato or parsnip. Mix it with potato. Maybe be the person to invent a swede cake? Just don't leave your swede languishing any longer. Come along and give it a bash!
Sunday 10 February from 10am for the competition. Sunday 3rd Feb for your free swede!
Herne Hill Market in Railton Road
Rules:
The contest is open to all local residents, one entry per person.
Recipes must contain at least 1 cup of swede.
Recipe originality: you can use someone else's recipe as long as you alter it to make it
yours, and you give credit to the recipe's author.
Prizes
First prize: Dinner for two at Suzanne James SupperClub. Suzanne James is an East Dulwich
based caterer known for exceptional food and a commitment to sustainability. The Supperclub
is a hugely popular monthly dinner held in their premises. http://www.suzannejames.co.uk/
supperclub.asp
Second Prize: A signed copy of Less Meat More Veg, a cookbook by local food writer Rachel
de Thample, which features three swede recipes. Rachel says "Swede used to fill me with
dread until I started spicing it up. My favourite way to eat it is with Indian spices, roasted and
mixed through a rich red curry sauce or mixed with cumin, turmeric and mustard seeds and
transformed into savoury, crisp-breadcrumb-coated bites." Rachel has worked has worked in the
kitchens of Marco Pierre White, Heston Blumenthal and Peter Gordon and was commissioning
editor for Waitrose Food Illustrated.
Third Prize: A bottle of wine that goes well with swede, provided by Herne Hill's new wine shop
Bacchus (on Half Moon Lane at Holmdene).
Registration is open until Friday 8th Feb at 5pm at http://www.localgreens.org.uk/redeem-swede-contest-registration
Local restaurant Pullen's will feature the winning recipe on the menu. Judging will be held in
front of the restaurant, and the staff will aid in keeping dishes warm.