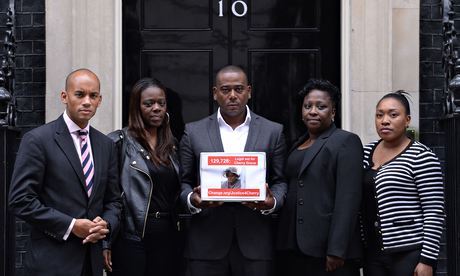 The Legal Aid Agency is reviewing its decision to refuse legal aid to the family of Cherry Groce for representation at the inquest into her death in June.
The case has been referred to Lord Chancellor and Justice Minister Chris Grayling to make a decision on the matter.
Ms Groce was shot by the Metropolitan Police in Brixton in 1985 and was left paralysed from the waist down. Her shooting sparked the Brixton riots.
Ms Groce's family, led by her son Lee Lawrence, delivered a petition to be granted legal aid to 10 Downing Street on Thursday 3 April.
The petition has been signed by over 132,000 people and the number of signatures is still growing.
Chuka Umunna, Labour MP for Streatham, said: "I am pleased the matter has now been passed to the Lord Chancellor to determine personally.
"The initial decision to deny the legal aid assistance this family needs was both perverse and wrong – the family has suffered enough and the Lord Chancellor should reverse this decision without delay and give them the legal support that the other represented parties are being afforded by the taxpayer."
Between April and December last year, only 36 of nearly 1,000 applications for legal aid were granted by the Agency.