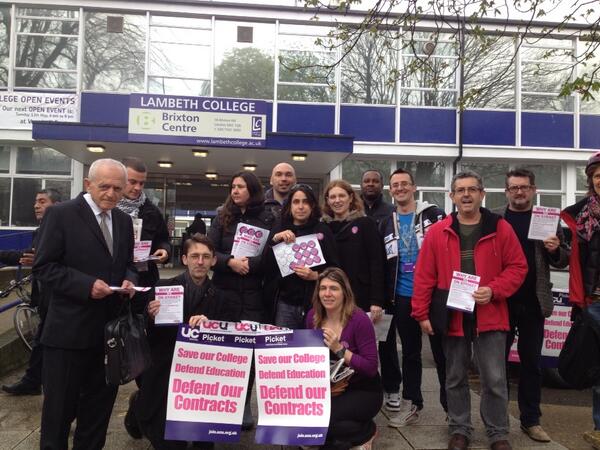 Union members at Lambeth College were on strike yesterday over proposed changes to contracts for new staff, which would cut holidays and sick pay while increasing work load.
Members of the University and College Union (UCU) gathered outside the Brixton campus, on Brixton Hill, and a rally was held outside the Clapham campus which began at midday.
Support for the strike came from members of the Socialist Party, the Trade Union and Socialist Coalition and supporters of the Save Brixton College campaign.
Reportedly, 69.5 per cent of UCU members turned out to vote on the strike action, with 95 per cent voting in favour.
The UCU said the new contracts would mean that Lambeth College staff would be forced to work longer hours than all but three of London's further education institutes.
Staff at the college have expressed concern that the new contracts will be imposed on existing staff.
Mark Silverman, principal and chief executive of Lambeth College, said: "We are disappointed with the result of the recent ballot and will continue our dialogue with the unions and our staff to try to avoid a strike which risks damaging the education of our students and job security of all those employed at the college.
"Existing staff should understand that the proposals will only affect new staff and there are no plans to change current contracts for existing staff."
Una O'Brien, UCU regional official, said: "The management of the college needs to work with us to ensure the college is fit for purpose.
"Downgrading staff terms and conditions is not the way to do that."